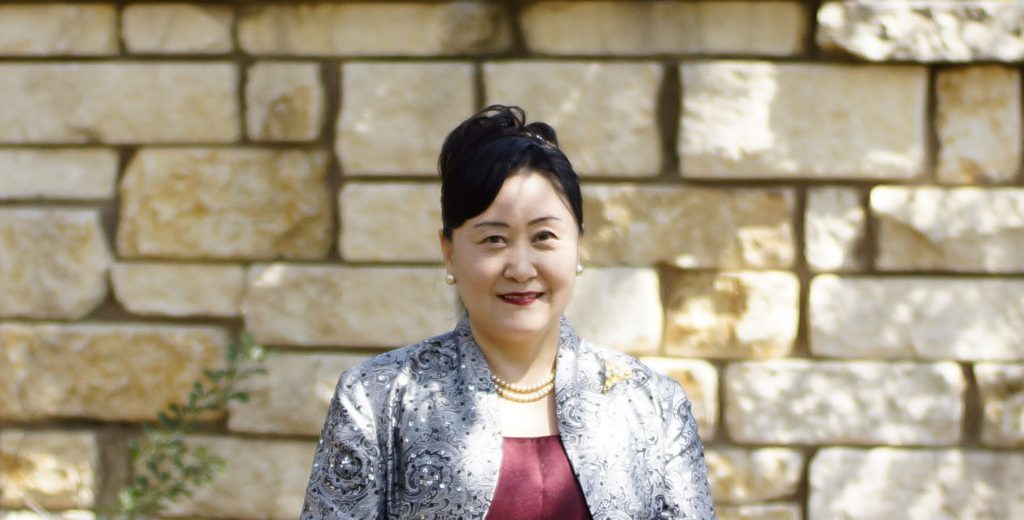 Kristin Sue Kim was born in Seoul, South Korea. Her maiden name is Kim (Jung), Sook-Kyoung.
She has a husband (Medical Doctor) and three sons and currently lives in Austin.
Her art sign means Kristin Sue (Kim, Sook-Kyoung) carry the gospel as a Christian artist.
She was an international student at San Diego State University and went to North Carolina Wesleyan College, Catholic University, Bowie State University, and AUC Graduate School.
Her major was Fine Arts and Education.
She was awarded in the Mok Woo Hae (목우회) and in the Korea Art Festival (한국미술 대전). In the United States of America, she was awarded first place in the Spring Art Festival in Maryland. She also won first place in the Artist Contest in Germany. She was a member of the Korean Artist Association of Southern California, the Washington D.C. Artist Association, the Texas Southwestern Artist Association and Texas Watercolor Society and the Environment Art Organization. She had a group show exhibition at the 22nd Century Gallery, Saeh-jong Culture Hall Gallery (세종 문화 회관 전시실), Korean Culture Hall in Los Angeles (L.A. 한국 문화원 전시실). She also had an exhibition with other American artists in California, Florida, Washington D.C., Maryland, North Carolina, and Texas.
At first, Kristin Sue Kim's paintings focused on the pastel tone still life and it was then changed to colorful landscape. She also painted abstract as featured in her painting "The 4th of July," "Heaven" and "Angel Flowers Quilt Series." She has had her own show and group show exhibitions in the United States of America, South Korea and Europe. Kristin Sue Kim had a group art show with other artists in MD, VA, Washington D.C., CA, FL, NC, TX and South Korea, Europe.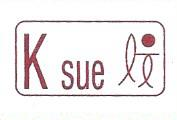 The following are my thoughts about your art work. First of all, I see that your paintings have beautiful composition. I looked at all the paintings and saw how there is a circular composition in each of them. My eye follows around the edge of the paintings and the imagery always leads me to stay within the painting. That is mastery of art. Second, I like the dream-like quality of your paintings. This makes them compelling. Third, I really like the painting with Austin in the background. It captures a magical mystique of Austin. You capture the spirit of Austin. Fourth, I love your use of vibrant colors. It is like the colors that must be in heaven. God has blessed you with an amazing artistic talent, Kristin. Thank you for sharing your art with the world. You express beauty with the Spirit of God in you.
Anthony Petrucci, Austin Journalist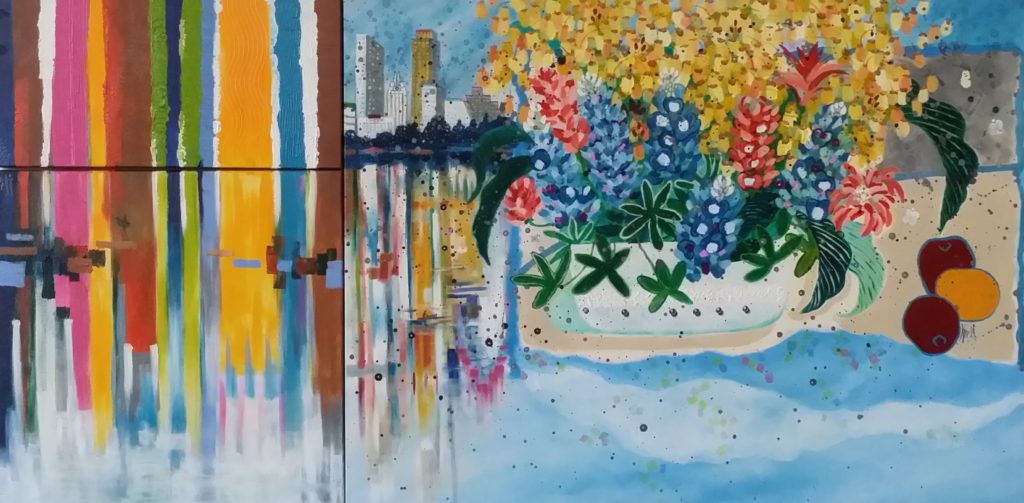 Angel City 1, 2 Acrylic (20″ x 20″ x 1.5″) x 2 2017
Angel Dream 6 – Bluebonnet of Austin, Acrylic (30″ x 40″ x 1.5″) 2017
Numerous blossoms and stripes in the paintings represent a solitary crowd pouring into our digital society, and the angel puzzles scattered all over the place are those who perform the love of Jesus Christ to under privileged people represented as silver beads. Everyone who admires the paintings is hoping that each person's heart will be healed by true love.
I blended many art styles on a single canvas. For example, I painted the background flowers in an impressionistic manner, the smallest flowers in a modern fasion, and the larger flowers, fruits were done in a pop-art style. I painted in a semi abstract art, combining still-life and landscape.
Also, I created a series of works based on canoeing in the Lady Bird Lake. The light of the Austin skyline is reflected on the lake combines various techniques of modern art. It was transformed into various colors by different textures.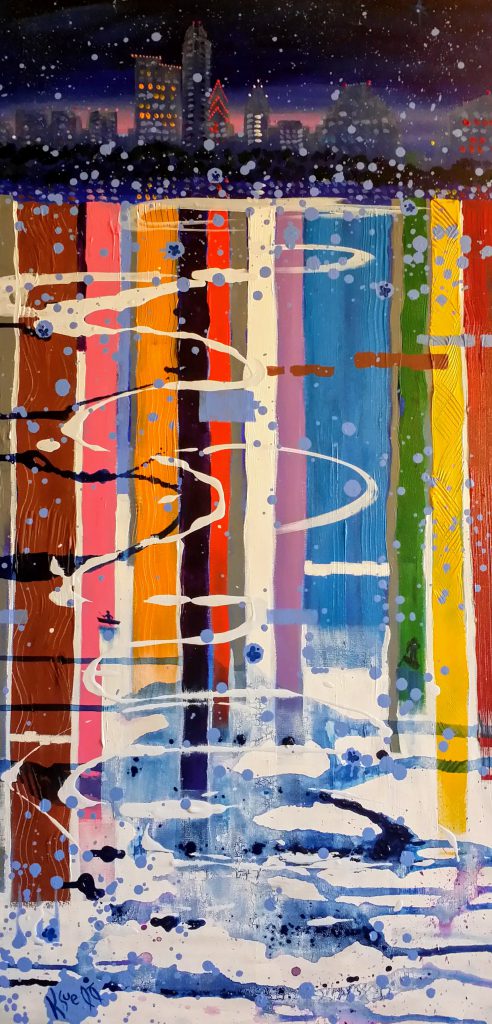 Angel City 3 – Lady Bird Lake
Acrylic (48″ x 24″ x 1.5″) 2017